Branch News 38 for Sunday 25 September
Events in brief (*more details below)
During the next week: Mon 26 September to Sunday 2 October
· Zoom Talk by Richard Ramsbotham on Monday 26 September*
· Introductory Talks #9. "Rites of passage" by Rosie Simpson Wed 28 September*
· Exhibition: Amanda Sowersby Graduation Friday 30, Saturday 1 October*
· NZ Zoom Conference at Hohepa Clive on Saturday 1 October*
· Stirring BD Prep 500 – shared meal – Talk on "Michael" – Fri 7 October


During the next 4 weeks:
· Conversations: Theme – 'Rosemary' - Monday 10 October 10am*
· Christian Community Conference October 21 to 23*
Other things
Some Visual Mantra

The Question of Climate Change*
---
Zoom Talk by Richard Ramsbotham on Mon 26 September
"From Gondishapur to Covid-19 and the 4th Industrial Revolution" with Richard Ramsbotham
Sun, Sep 25 at 3:00pm EST = 8:00 am Monday 26 September. [NZ is 17 hours ahead of EST and Daylight Saving will have just started on Sunday!]
How are our modern-day approaches to pandemics, technology advancements and governments influenced by thinking impulses originating in The Academy of Gondishapur?
Register here:
https://us06web.zoom.us/webinar/register/WN_7zwVmfGCRZ-5Nc0imZRI8w
Cost USD$20
Richard Ramsbotham was born in Northumberland in 1962.
After attending Cambridge University and Emerson College he taught literature at Warsaw University (1989-1993) and then trained at the Artemis School of Speech and Drama.
Since then he has worked as a teacher, lecturer, writer and theatre director.
He is the author of 'Who Wrote Bacon? Shakespeare, Bacon and James 1'; 'An Exact Mystery – the Poetic Life of Vernon Watkins'; several plays and many articles on cultural, historical and current themes (e.g. 9/11 and Covid-19).
He has also translated and directed Rudolf Steiner's 4 Mystery Dramas.
He is the co-founder of Fourfold Living Arts, an initiative bringing together the performing arts with the exploration of important cultural and current themes.
Melissa
for the South Eastern Pennsylvania Branch of the Anthroposophical Society
More information about Gondishapur can be found here:
Academy of Gondishapur - AnthroWiki
---
· Introductory Talk #9 – Wed 28 Sept – Rosie Simpson
We warmly invite parents, friends and teachers to our introductory talks, looking at Childhood development. Babies in arms warmly welcome. Fathers are very welcome too – it would be lovely to see some fathers - if you can sacrifice a couple of hours off work.
Indeed. these talks are open to anyone interested in the topics.
The talks are free of charge, but a contribution in the Koha box towards the running of the Centre is always appreciated.
From 1.45 to 2.30 pm on Wednesdays in the Main Room of the Centre
= = = =
Rosie Simpson on 28 September
Rites of Passage
The Steiner School curriculum is wonderfully responsive to the developmental stages of childhood. There are moments in teaching that feel like magic, when a threshold is crossed at just the right time, enabling new faculties and capacities to emerge unhindered, when the child's wings unfold.
How as adults can we recognise and accompany these key moments of readiness, of "waiting till the time is right."
====
The talks so far have given an insight in the early childhood years and the Lower school time. In the fourth term, will look at the Upper school years.
"The journey to the Self"
The years from 14 to 21
The next 3 talks will be given by Hans and Ineke van Florenstein Mulder.
Talk #10, 19 October 2022
How does the curriculum support the soul development of the Upper school students in the 4 Upper school years.
Talk #11, 26 October 2022
In the Lower school the 4 temperaments become visible, in the Upper school the Planetary Soul types are manifesting themselves.
What are these Planetary Soul types and how do we work with them?
Talk #12, 2 November 2022
The metamorphosis of the 12 senses from birth to the age of 21.
****
---
· NZ wide Conference by Zoom Sat 1 October
Leaderful Engagement in a Transforming World
This year's combined conference – online and in person.
A free keynote presentation via zoom by Joan Sleigh from South Africa:
For details and registration, please see: https://www.anthroposophy.org.nz/events/anthroposophical-society-conference-2021-2/
Hohepa, Clive, is very happy to host as many people as want to come to participate in the online zoom conference with Joan Sleigh on Saturday, 1st October from 8:45.
They have a big screen in the Board Room which everyone can watch. The morning sessions will have discussion breaks – smaller groups can go to offices for this if wanted.
In the afternoon, activities have yet to be organised. The hall, board room and other offices are available, if needed. For further information, please contact Kate Hartland 021-1200 970.
We hope that people will bring food for morning break and a shared lunch.
Tea and coffee will be available.
*****
---
· Stirring of BD Prep 500 – a shared meal – Talk on "Michael" – Fri 7th October
Now that spring is coming, it is time to stir the BioDynamic preparation "500".
On Friday afternoon stirring the preparation for the Centre garden
will start at 4 o'clock.
We stir primarily for the Centre garden, but there will be portions of "500" available for stirrers to take home for their own garden (please give a koha for the Centre).

At 5.30 p.m. there will be a shared meal – please bring a plate.
This will be followed by a related talk by Hans van Florenstein Mulder at 6.30
(all are welcome, even if you have not participated in the earlier parts)

"WHAT IS MICHAEL, OUR TIME SPIRIT, ASKING OF US?"
*****
---
Invitation
to a
Celebration of Spring
- with the herb rosemary as the theme
Monday 10th October
10.00a.m.
(Rosemary flavoured foods for morning tea, music, talk about the herb rosemary by
Kaye Keats, a story and some gently awakening surprises)
At Rudolf Steiner Centre
401 Whitehead Road, Hastings
The herb, rosemary, we all know but are we aware of the support it can bring from a therapeutic perspective?
Rosemary as an essential oil, 'invites' the soul to better connect with the physical body.
The processes activated by rosemary have a stimulating effect on the encounter between the soul body and the physical and etheric bodies.
The plant's bitter substances and tannins also awaken and strengthen the vital forces.
Rosemary, therefore, has a strong, overall incarnating and healing effect.
Rosemary originates from Mediterranean countries where dews of the sea help sustain the plants growing on the rocky terrain.
Its Latin name is rosmarinus and means
"dew of the sea".
******
Our Conversation sessions can be very diverse, always encouraging members and friends to come together and share parts of their life journeys and interests or deepen their understanding of Anthroposophy.
Come and join us for another Conversation session
Monday, 10th October, 10.00a.m.
Bernie Raichle and Diana Bacchus
*****
---
THE CHRISTIAN COMMUNITY
Movement for Religious Renewal
__________________________
PROGRAM FOR 100 YEARS CONFERENCE
HELD AT 'RANGIMARIE' 617 HERETAUNA STREET HASTINGS
FRIDAY EVENING, OCTOBER 21
7.00 pm Talk by Cheryl: '
The Movement for Religious Renewal – Our Founding and History'
8.15 pm Close of Day Service
SATURDAY, OCTOBER 22
10.00 am The Act of Consecration of the Human Being
11.00 am Morning tea
11.30 am Talk by Cheryl: 'In Mindfulness of Christ's Deed'
12.00 pm In conversation with one another: crystalising questions
1.00 pm Lunch and 'walk and talk'
2.30 pm World café conversations based on questions: -
Q: What inspires you?
Q: What ails you?
Q: Do I seek for meaning in my life, or do I give meaning to my life?
Q: Did you find The Christian Community or did The Christian Community find you?
3.45 pm Afternoon tea
4.15 – 5.45 pm Talk by Dr. Richard Drexel:
'Blood is a queer juice'….Johann W. v. Goethe: Aspects of the Divinity
6.00 pm Potluck dinner. Please bring food to share
7.00 pm Creative / artistic offerings from our community – to be advised
8.00 pm Close of Day Service
SUNDAY, OCTOBER 23
9.00 am Family Circle followed by The Sunday Service For Children
10.00 am The Act of Consecration of the Human Being
11.00 am Morning tea with birthday cake !
11.30 am Community Festival - (please bring a flower)
12.30 pm Concluding address: 'Walking with Christ'
Admission is by generous donation. Thank you very much.
---
---
Two Visual Mantra shown by Robin Bacchus during his Introductory talk #7 ( on Wed 14 September) on The Lower School child in relation to the Patterns and Rhythms of Life. For you to contemplate.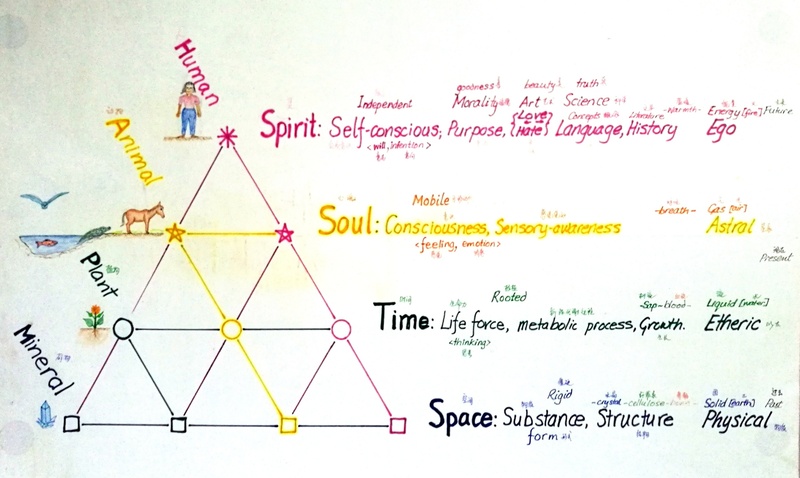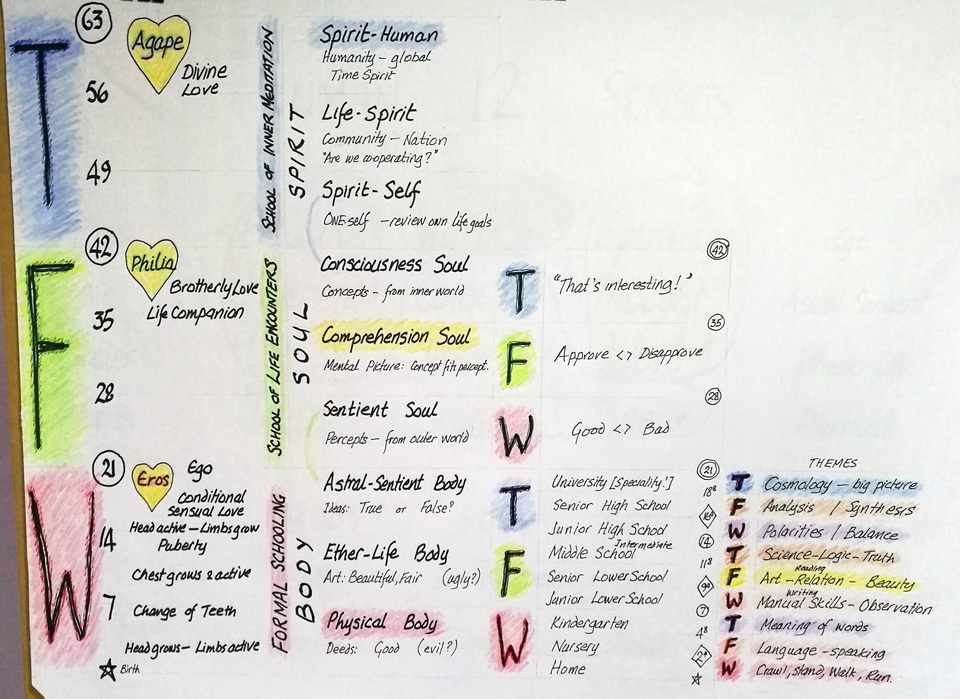 ---
Who or what should you believe? There are many conflicting views. Unkind names are used to pillory those who have differing views.
Here are 3 contributions to the debate that challenge the media anointed declaration of climate catastrophe.
Media is about News. News is now a commercial business based on clickbait advertising. News that is not read is not NEWS. Media knows that good news is rarely read, but alarming news is read quite voraciously. So that is what we get.
There are many questions. How does high-temperature diurnal incoming solar radiation balance lower-temperature nocturnal outgoing Earth radiation? How does atmospheric composition affect this balance? The dominant factor is water vapour and clouds. How significant is variation of CO2? Is it the height of hubris to imagine that we can significantly this balance? They are not easy to answer truthfully. Who do I believe???
Whatever else, we, as responsible citizens, have to do the hard work and critically appraise for ourselves what is being promoted as the basis of huge changes, at huge expense, in modern civilisation. Are they justified? Read or listen and see what you think.
Steven E. Koonin, is an American theoretical physicist and former director of the Center for Urban Science and Progress at New York University. He is also a professor in the Department of Civil and Urban Engineering at NYU's Tandon School of Engineering. From 2004 to 2009, Koonin was employed by BP as the oil and gas company's Chief Scientist. From 2009 to 2011, he was Under Secretary for Science, Department of Energy, in the Obama administration. He writes: "Unsettled. What Climate Science Tells Us, What It Doesn't, And Why It Matters" available on Kindle. ISBN 9781953295248 (ebook)
A British contribution by Christopher Monckton and Alex Henney
"Climate of Error – The grave error of physics that created a climate 'emergency'"
https://www.heartland.org/_template-assets/documents/Monckton20-Dec3-climate-error-guide.pdf
William Happer, "How to think about Climate Change".
https://www.youtube.com/watch?v=CA1zUW4uOSw
Contributed by Robin Bacchus.