Branch News 40 – Sunday 9 October
Events in brief (*details further down)
This week: Monday 10 to Sunday 16 October
Conversations – Herb "Rosemary" Monday 10 Oct at 10am:*

Friday Group – Lead Thought #12. Friday 14 Oct. 7pm *

Spring Festival. Sunday 16 Oct, 7pm*
Later events:
Introductory Talks #10 to #12. Weds 19, 26 Oct 2 Nov

Talk by Herbert Wolpert on Ukraine. Wed 26 Oct. 7pm

Calendar Planning for 2023. Sun 30 Oct at 3pm
Reports
Initiative Group Mtg on Thu 6 Oct. 22

Talk on "What Archangel Michael is asking of us?"
**************************************************************
Conversations
Reminder
Celebration of Spring
-with the herb rosemary as the theme-
Monday 10th October
10.00a.m.
Rosemary flavoured foods for morning tea, music, talk about the herb rosemary by Kaye Keats, a story and some gently awakening surprises.
At Rudolf Steiner Centre, 401 Whitehead Road, Hastings
Bernie Raichle and Diana Bacchus
**********************************************************
Friday Group – 14 Oct at 7pm – Leading Thought #12
Open to all members and friends.
The Leading Thoughts be found at https://steinerlibrary.org/Books/26/RSP1973/
Leading Thought #12 from CW26
12. The reality of the ' I ' is found when the inner vision whereby the astral body is known and taken hold of, is carried a stage further. The Thinking which has become alive in meditation must now be permeated by the Will. To begin with we simply gave ourselves up to this new Thinking, without active Will. We thereby enabled spiritual realities to enter into this thinking life, even as in outer sense perception colour enters the eye or sound the ear. What we have thus called to life in our consciousness by a more passive devotion, must now be reproduced by ourselves, by an act of Will. When we do so, there enters into this act of Will the perception of our own ' I ' or Ego.
**************************************************************
Spring Festival Sunday 16 October at 7pm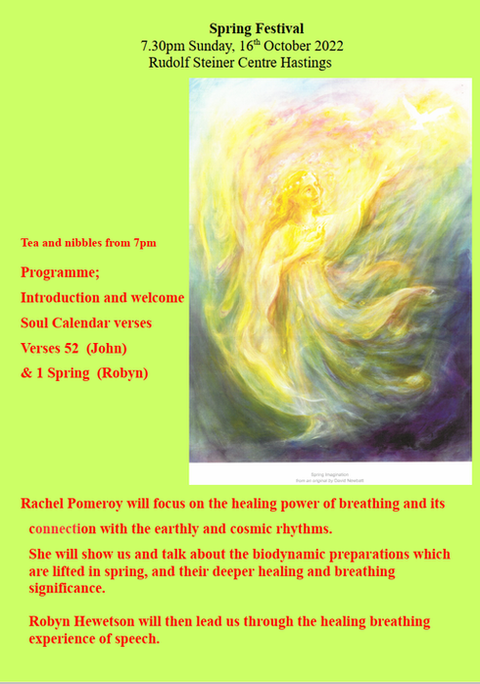 Report from Initiative Group Meeting on 6 October 2022


* The anthroposophical "Introductory Talks" for parents:
These will conclude with 3 talks on "The third 7-year period of life" in Term 4.
* Burning of the First Goetheanum
On the evening of 31st December 1922, Rudolf Steiner endured the arson of the first Goetheanum, which he and helpers from many nations had spent the entire WW1 years in peaceful Switzerland constructing, carving and decorating. The building was a treasure trove of artistic esoterically-inspired endeavour intended as a home for Anthroposophy with an auditorium for lectures, drama and eurythmy performances. The artistic elements of the building included the architecture of two intersecting cupolas and the supporting columns; the metamorphic carvings of the column pedestals and architraves and wooden statue of "The Representative of Man" [which was not burnt]; the coloured, etched glass, windows and the paintings on the cupolas' ceilings.
We plan an exhibition and an evening when we look back on what happened in 1922, in the year leading up to the arson, the significance of the building and the burning itself. More details next week.
If any reader has books or material suitable for creating an exhibition highlighting the artistic elements of the first or second Goetheanum or would like to help in any way, please get in contact with Hans or Ineke Mulder at hmulder@xtra.co.nz. or 027-9488752
* 2023
During 2023 we will continue with monthly evening talks on topics relating to the First and the Second Goetheanum leading up to the 1923 Christmas Conference when Rudolf Steiner re-founded the Anthroposophical Society and gave the Foundation Stone meditation to the members there.
* Calendar Planning for 2023
Initial meeting, Sunday 30 October, 3pm at the Centre.
We realised that there are many anthroposophically-inspired events in Hawkes Bay that are open to members and friends. These are arranged not only for the Centre, but in other venues by other associated groups.
We are looking towards 2023 and would like to coordinate events so that the dates of all local events fit together nicely, rather than conflict or overlap.
So, on Sunday 30th October at 3pm, we welcome individuals and people from any local Anthroposophical initiatives who could be arranging, or recommending, events based on Anthroposophy, to be held during the coming year. We will begin to create a 2023 Planning Calendar which will assist making harmonious future arrangements. If you can't attend personally, please send intended event, date/time and venue details to:
Contact person - Diana Bacchus, email (diana@bacchus.co.nz)
We ended the meeting with a quotation from Vaclav Havel:
"If I believe that I am what
This world makes of me there is nothing I can do.
In such a situation I will not, of course, be able to prevent
the destruction of the planet.
But if I think what originally
Each one of us is, or could be,
Independent of the world situation,
Namely an autonomous human being,
Responsible to the world and for the world,
Then there is, of course, a great deal
I can do"
Vaclav Havel
Vaclav Havel was a Czech statesman, playwright, former dissident, and Anthroposophist, who served as the last President of Czechoslovakia from 1989 until the dissolution of Czechoslovakia in 1992 and then as the first President of the Czech Republic from 1993 to 2003.
Born: 5 October 1936, Prague, Czechia
Died: 18 December 2011, Hrådeöek Czechia
Present: Hans & Ineke Mulder, Bernie &Gerrit Raichle, Margaret Stevenson, Jenny Sutherland, Diana & Robin Bacchus.
The next meeting of this Initiative Group will be Thursday 27th October 9.00am in the Centre library. Anybody wishing to join us is most welcome.
Please contact Hans or Ineke at hmulder@xtra.co.nz.
********************************************************************************
Report on Bio-Dynamic Stirring, meal and Talk on Friday 7th
Over a dozen people gathered for the evening sharing the effort to stir the B-D cow-horn preparation '500' in buckets of rain-water; stirring one way to create a vortex then reversing through chaos to a vortex the other way. This was sprinkled around the Centre property and some given to participants to sprinkle around their own gardens.
Pot-luck meals are always interesting for the surprise element of the various offerings and the conversations that arise.
= = = = = =
In his talk, Hans Mulder posed the question: "What does the Archangel Michael (The current time spirit) ask of us?"
Michael has a connection with light – the light of the sun and the light of thinking.
The Sun light has 3 major rhythms:
Day: sunrise (dawn), day (awake), sunset (dusk) and night (sleep);

Year: seasons spring (increasing), summer (bright), fall (decreasing) and winter (dark).

Cosmic Year: precession of the Vernal equinox through the 12 signs of the zodiac in 25,920 years – 12 civilisation periods of 2,160 years.
Each Civilisation period has a sequence of 7 archangelic time-spirits that provide guidance to humanity – the current one being Michael.
Michael has a cosmopolitan attitude – reflected in movements of people to different regions of the earth. Michael's advice is 'silent' – he speaks to you only when you ASK. He has three transformed ideals:
Piety in the past becomes unconditional truth;
Love in the past becomes responsibility for others;
Humility in the past becomes courage for one's destiny.
*****************************************