Branch News – Sunday 11 June
Week 23, 2023
Coming Events in brief
Note ** means see below for more details.
Monday 12 June 5:15pm at Centre. Conversations **
Friday 16 June 7pm Talk by Dr Richard Drexel **
Friday 23 June 7 to 8:30pm Leading Thoughts 38-40
Saturday 24 June 7pm Midwinter Festival **
___________________________________
Treasurer
The Committee of the HB Branch of the ASNZ is still seeking a Treasurer. If you can help or you know someone who could help, please contact Robin Bacchus on chair@anthrohb.nz
_________________________
Conversations

Anthroposophy, Spirit and Culture
We look forward to our next Conversations gathering on -
Monday 12th June at the Centre
5:15pm Light snacks
5:45pm talk by Michelle Vette.
"Towards the Centenary of the Anthroposophical Society's founding Christmas Conference"
All Welcome
Diana Bacchus [diana@bacchus.co.nz] and Bernie Raichle
_________________________
The Human Constitution
a talk by Dr Richard Drexel
7.00pm, Friday 16 June at the Anthroposophical Centre
Door charge $20
Sue Simpson [sue.simpson0@gmail.com]
_______________________
Midwinter Festival
Saturday, 24th June 2023 7.00 for 7.30pm
Rudolf Steiner Centre Hastings
Programme:
Meet and greet from 7.00 Nibbles provided
7.30 Art exercise with Saskia Stein
Calender of the Soul reading by John Jackson
Verse 38 Midwinter
To carry spirit light into world winter night
Strives blessedly the impulse of my heart
That soul seeds , brightly shining,
Take root within world grounds
And God-Word in the senses darkness,
Transfiguring, sounds throughout all being.
Translation by Julian Pook 2020
Talk: Rachel Pomeroy will discuss the special qualities of midwinter, and why we lay the biodynamic preparations in the earth over this time.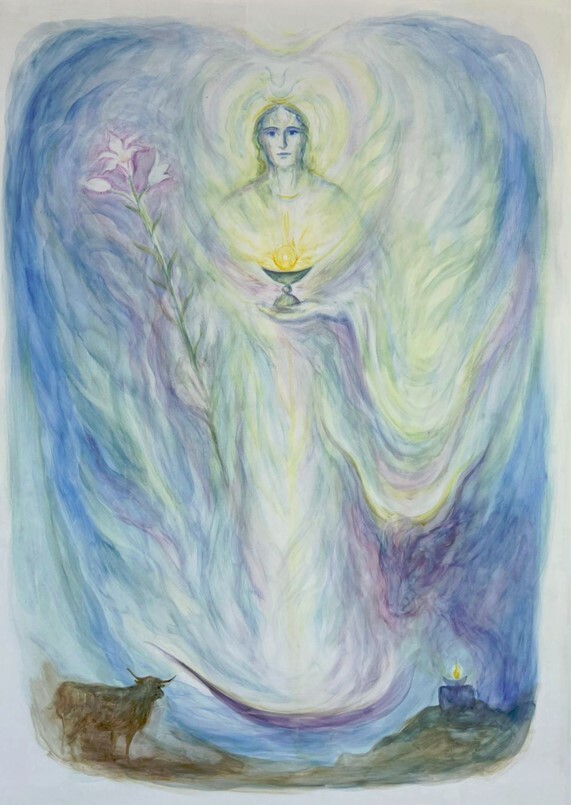 Gabriel -from an original painted by David Newbatt
______________________
A New Art Initiative in...
LIGHT, COLOUR and DARKNESS
My name is Kathy Allan and I am a
Liane Collot d'Herboise Art Therapist...
In term 3 of this year I will be running a new class in which I will be teaching...
THE 12 LIGHT and DARKNESS EXERCISES and their
CORRESPONDING COLOUR MOVEMENTS
The class will be run on a Friday
_____________________
Parcival Saga continued....
Ineke Mulder will continue her explorations of the Parcival saga and its relevance for our times in conjunction with Manawa Studio in Hastings.
Up to 4 sessions
On Tuesdays July 18 & 25 and August 1 & 8
from 10:00am to 12:15pm
Talk followed by water-colour painting
with Margaret-Mary Farr
(wet-on-wet, no experience needed)
Cost: $25 per session.
Enquiries to manawastudio@gmail.com
or phone/text Maggie on 027-2484 193
______________________________________
Taruna College
is excited to be once again offering their Winter Warmer Craft workshops on Saturdays 22nd and 29th July. 9am to 1pm.
Are you keen to try your hand at macramé; needle-felting; carving stone sculptures or a wooden spoon; creating with ink and resin; weaving flax; making flower wreaths or printmaking!
For more information or to register go to Taruna's website https://www.taruna.ac.nz/courses-and-workshops/winter-warmers-craft-workshops/
Business Manager
33 Te Mata Peak Road
877 7174
_______________________
WELEDA
Weleda is open, You can visit the Weleda Shop & Visitor Garden at 302 Te Mata Road Havelock North, Monday to Friday 9am-4:30pm. The Shop stocks a full range of Weleda products including Over The Counter Medicines, Supplements & Cosmetics.
Our Medical Herbalist or Naturopath can help you select the right product for your health needs.
Over The Counter Medicines & Cosmetics can also be purchased at www.weleda.co.nz.
Weleda Pharmacy however is not renewing its license to dispense prescription medicines.
From 20th June 2023 prescriptions will need to be presented or sent to Clive Pharmacy.
Thank you for your ongoing support & interest in Weleda.
Fred Dryburgh, Managing Director, fred.dryburgh@weleda.co.nz