Branch News – Sunday 18 June
Week 24, 2023
Coming Events in brief
Note ** means see below for more details.
Friday 23 June 7 to 8:30pm Leading Thoughts 38-40
Saturday 24 June 7pm Midwinter Festival **
Thursday 29 June 6 to 9pm. Southern Hemisphere/ South Pacific Members Forum (ZOOM). Refer to email from News@ASNZ of 17 June.
___________________________________
Treasurer
The Committee of the HB Branch of the ASNZ is still seeking a Treasurer. If you can help or you know someone who could help, please contact Robin Bacchus on chair@anthrohb.nz
_________________________
Midwinter Festival
Saturday, 24th June 2023 7.00
Rudolf Steiner Centre Hastings
Programme:
Meet and greet from 7.00 Nibbles provided
7.30 Art exercise with Saskia Stein
Calender of the Soul reading by John Jackson
Verse 38 Midwinter
To carry spirit light into world winter night
Strives blessedly the impulse of my heart
That soul seeds , brightly shining,
Take root within world grounds
And God-Word in the senses darkness,
Transfiguring, sounds throughout all being.
Translation by Julian Pook 2020
Talk: Rachel Pomeroy will discuss the special qualities of midwinter, and why we lay the biodynamic preparations in the earth over this time.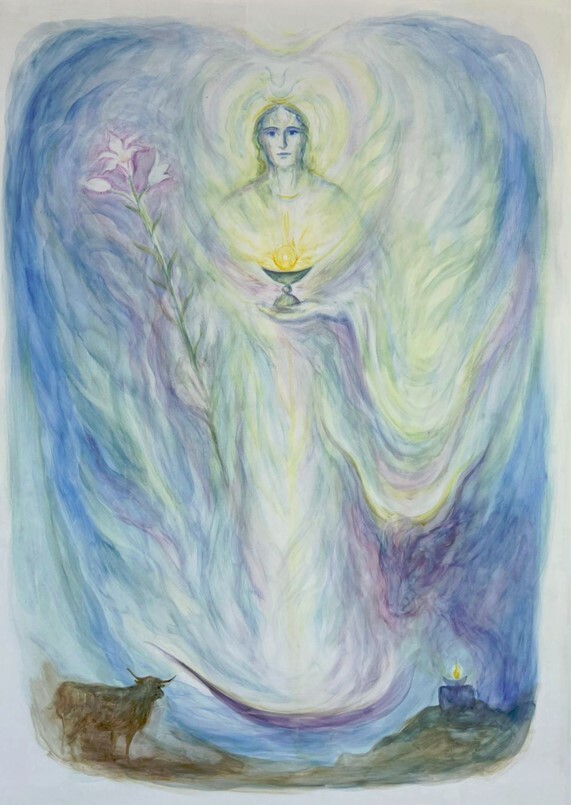 Gabriel -from an original painted by David Newbatt
_______________________
A New Art Initiative in...
LIGHT, COLOUR and DARKNESS
My name is Kathy Allan and I am a
Liane Collot d'Herboise Art Therapist...
In term 3 of this year I will be running a new class in which I will be teaching...
THE 12 LIGHT and DARKNESS EXERCISES and their
CORRESPONDING COLOUR MOVEMENTS
The class will be run on a Friday
_____________________
Parcival Saga
Ineke Mulder will continue her explorations of the Parcival saga and its relevance for our times in conjunction with Manawa Studio in Hastings.
Up to 4 sessions
On Tuesdays July 18 & 25 and August 1 & 8
from 10:00am to 12:15pm
Talk followed by water-colour painting
with Margaret-Mary Farr
(wet-on-wet, no experience needed)
Cost: $25 per session.
Enquiries to manawastudio@gmail.com
or phone/text Maggie on 027-2484 193
______________________________________
WELEDA
Dear Friends of the Pharmacy
It was with much regret that we have made the difficult decision not to renew our pharmacy licence when it ends on 23rd June 2023. As a company dedicated to providing high-quality anthroposophical remedies and healthcare products, this decision was not made lightly, and we understand that it may have come as a disappointment to people that have an association with Weleda.
It is important to note that this change will only impact where the dispensing of Anthroposophical Medicine on prescription occurs. Dispensing will still occur. To support the ongoing availability of Anthroposophical Medicine on prescription, Weleda NZ are partnering with Clive Pharmacy.
Weleda's shop will remain open, and our full range of over the counter medicine, dietary supplements and skin care products will still be available to purchase & receive expert advice on.
For context, a number of circumstances gave rise to the consideration of not renewing the pharmacy license:
I. Availability of suitably qualified pharmacist to be license holder, & with stricter application by the regulator for the license holder to be regularly on site;
II. Short supply of Pharmacy Technicians & Pharmacists, especially those with specialised knowledge;
III. Uncertainty in future round licensing requirements, new revenue opportunities, and Doctors' activity;
IV. Drop in Turnover and rising operational costs in the pharmacy, contributing to ongoing losses subsidised by other parts of the business;
V. Weleda Group in a crises losing market share, and facing the risk of not being able to meet its obligations, in Europe job losses and closing of sites or part there of;.
VI. Challenges bought by the pandemic;
VII. Damage Caused by Cyclone Gabrielle. Need to Reconsider rebuild of dispensary area and invest if returning to Pharmacy dispensing level standards.
These factors were the primary contributors to the decision not to renew the Pharmacy license. Please know that this decision was made after careful consideration of our situation, and it was necessary to ensure the long-term sustainability of the wider Weleda business.
As mentioned, Anthroposophical Medicine on prescription will be available through Clive Pharmacy, the staff there have over 10 years' experience of working with Anthroposophical Medicine. They are based less than 10 minutes' drive from Weleda.
Natascha Roughton , BSc, BPharm, PGDipPHC, PGDipClinPharm, Reg NZ Pharmacist. & Owner of Clive Pharmacy did her first training in Natural Health in 2005. Natascha also worked in Weleda Pharmacy for 5 years up to 2019. Over the last 8 years Natascha independently took the Foundation in Anthroposophical Medicine course through the Eugen Kolisko Akadmie in Germany & furthered her knowledge by attending the IAPP (International Association of Anthroposophical Pharmacists) in Thailand with Albert Schmidli, Dr Kan-anek Kaewthaweesab and Herman Wessels.
Working alongside Natascha, is Claire Langley, Pharmacy technician. Claire worked at Weleda pharmacy for 6 years and completed the Taruna certificate in Holistic Health during her time there. Clive pharmacy is Open 6 days a week 8:30-6pm Monday to Friday and Saturdays from 9-1.
With longer opening hours & situated between Napier & Hastings adjacent to Clive Medical centre, this new collaboration creates the opportunity to provide integrated healthcare to a wider audience.
Having a specialised Pharmacy service available at Clive will give more resiliency for the availability of Specialised Anthroposophic Pharmacy advice & medicines into the future & Weleda can concentrate on its core business of manufacturing & distributing Anthroposophic medicines & cosmetics.
Also, by transitioning Weleda pharmacy into a retail shop next to our new Visitor Garden, we are intending to enhance our commitment to providing our customers with an enjoyable visiting experience. Our aim is to create a warm and inviting atmosphere that nurtures well-being, promotes education, and showcases our unique processes and extensive range of natural and organic products.
Patients of the Sophia Healing centre requiring prescription medicines will be able to choose whether they have the scripts delivered to their door, or pick up from either the Weleda Shop or Clive Pharmacy.
We appreciate that it's a big change for customers, patients & practitioners. The intention of the change is to support the ongoing availability of Pharmacy medicines and on the broader scale, all Weleda remedies & medicines.
I would like to take the opportunity to thank everyone for their understanding and support during this challenging & changing time. We highly appreciate your loyalty & interest in Weleda. We look forward to continuing to supply anthroposophical medicine into the future.
Fred Dryburgh,
Managing Director
Weleda New Zealand
__________________________________
NOTICEBOARD
House Sitter wanted
Kindly house sitter required for Bella (foxy) and Basil (cat). 25 August -15 September 2023
Please contact Sophie on 027-4889328
========================================