Branch News – Sunday 23 July
Week 29, 2023
- - - - - -
Coming Events in brief
Note ** means see below for more details.
Wednesday 26 July. Start of Therapeutic Art with Kathy Allan
Friday 28 July. 7 to 8:30pm Leading Thoughts 44 to 46
Saturday 29 July. 3pm. Farewell for Hans and Ineke Mulder**
Tuesday 1 August. Start of Old Testament studies with Cleone Armon
Saturday 5 August, 9:30 to noon. School of Spiritual Science 6
Saturday 2 September, 9:30 to noon. School of Spiritual Science 7
Friday 8 September. 7 to 8:30pm Leading Thoughts 47 to 49
-------------------------------------
Invitation
We warmly invite you to share afternoon tea on
Saturday 29th July, at 3pm
Rudolf Steiner Centre, 401 Whitehead Road, Hastings.
This event is to farewell
Hans and Ineke von Florenstein Mulder
who soon will be moving to Christchurch.
We would like to acknowledge all the gifts Hans and Ineke have shared with us in so many Anthroposophical endeavours since their arrival in Hawkes Bay 50 years ago.
All welcome
The Initiative Group.
-------------------------------------
Visual Mantra
Over my years of tutoring at Taruna College and running Waldorf educational seminars in Asia I (Robin Bacchus) developed the practice of encapsulating the content of a topic or lecture in what I call a 'visual mantra' where the relationship between various concepts is depicted.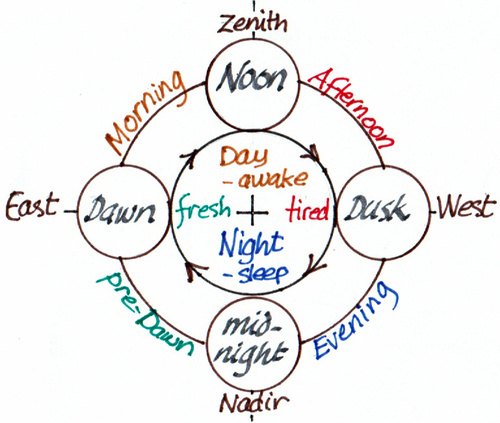 The Four-fold day.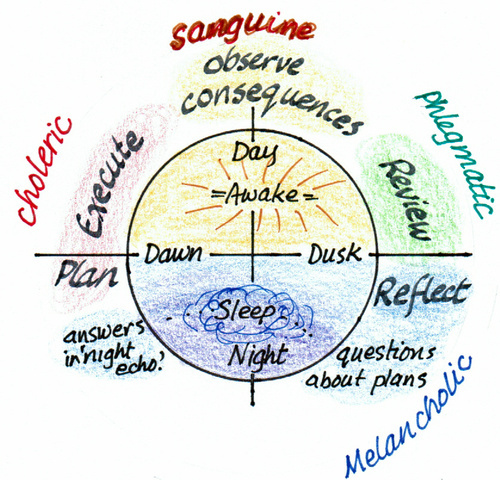 The stages of Action Research, with related temperaments.